Industry Counterstrike Targets Aggressive Gas Utilities
Posted: 05/01/14
By Richard Rutigliano, PriMedia, Inc. 

The winter of 2007-08 was a tough one, and while we're licking our wounds, the gas utilities are licking their chops. They've always coveted our market share, and now they figure they can gobble up a bunch of it. National Grid (the utility formerly known as KeySpan) has made its intentions clear. CEO Steve Holliday told the Boston Globe last year that he wants to increase market share in Greater Boston from 53 percent to 90 percent. The utility is running a convert-to-gas campaign and plugging it hard. Search the phrase "convert to gas" on Google, and you'll see National Grid's paid placement at the top of the listings. Other utilities are running similar campaigns, targeting Oilheat customers wherever they are. 

Some of our industry associations saw this attack coming this spring and called on PriMedia to help them devise a pre-emptive counterstrike. We put our heads together and came up with Energy Answers Today, a multi-tiered campaign that delivers all the tools that marketers need to stop the utilities in their tracks. Several industry associations are rolling the program out to members now so they can meet this latest challenge. Energy Answers Today addresses consumers from multiple angles. An industry education component equips everyone on your staff to communicate the anti-conversion message effectively. Two direct-to-consumer communication pieces directly challenge the utilities' pro-gas assertions. Those components all mesh nicely with the new Web site, EnergyAnswersToday.com. 

Funding comes from state and regional associations, so the campaign is directly competitive. It trumpets all the strengths of Oilheat and highlights all the shortcomings of utility gas. By getting these materials into customers' hands now, we can bolster their loyalty to Oilheat and prepare them to see through the utilities' specious arguments. 

In a typical off-season, you might be able to get away with a strong newsletter, but this is no ordinary year. Customers are coming off the most expensive home heating season they have ever experienced. They're frustrated, unhappy ... and uniquely open to persuasion. The utilities smell the opportunity, and they are actively pursuing your customers. National Grid has been particularly aggressive, running a campaign that is so egregious that the Massachusetts Oilheat Council called on the state attorney general to shut it down. (She didn't.) Their anti-Oilheat scare tactics liken residential oil tanks to "toxic waste dumps." They run a special "Convert to National Grid" Web site where your customers can read that, "The first place your oil furnace or boiler and tank pollutes is your very own home." 

National Grid isn't the only offender. New Jersey Natural Gas states on its conversion page, "If you're using fuel oil, you may face a leaking oil tank that can lead to thousands of dollars in unexpected environmental cleanup costs." NStar is offering $1,000 rebates and free gas line installation to Massachusetts customers. PECO points out that "approximately 200,000 U.S. households switch to natural gas heating per year." Elizabethtown Gas says that if you heat with oil you may be experiencing sooty walls, carpeting, furniture and draperies and high costs for maintaining your equipment. To "help," they offer a free furnace or a $500 rebate on a boiler to customers who convert. 

It's not just the utilities that are casting a bad light on our business; your customers are being led astray by "helpful advice" they find on the Internet. An online forum at HVAC-Talk.com carries a recent posting from an Oilheat customer asking whether he should convert to gas heat. He received more than a dozen responses, including several that are strongly pro-gas. One respondent stated matter-of-factly that Oilheat costs more than three times as much as gas in New York as has been cheaper than Oilheat "for a number of years." Another told him that unlike Oilheat, gas comes from the United States, and not from "politically unstable countries in the Middle East that despise the United States." Still another told him that gas heat is less complicated and "infinitely more reliable." He claimed to know "many people who switched from oil to gas for the reliability alone." Any Oilheat customer can come across that material and more like it while surfing the Internet.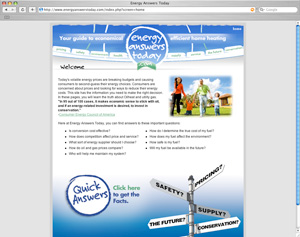 Whether from gas utilities or misinformed Internet users, restless customers are getting misleading information that smears Oilheat and makes conversion sound more appealing. In another year when relative price wasn't an issue, you could trust most of your customers to see through the nonsense, but 2008 is no ordinary year. These gas companies are on a mission to steal the customers you have worked so hard to retain. The riskiest thing you could do is to sit quietly by and let the utilities dominate the debate. Gas may be looking pretty good to your customers, and you need to shake them out of their reverie and remind them that converting is a risky venture that will cost them the service and benefits they enjoy as your customer. 

A good way to start is by signing your staff up for an Energy Answers Today seminar. Lasting about two-and-a-half hours, the seminars are designed for salespeople, customer service representatives, technicians and anyone else who is in contact with customers. Your staff is your first line of defense, and it is important that everyone who represents you knows how to address a customer's concerns. You never know when a critical conversation will occur or who will be speaking for your company, so it's best to disseminate the information widely. 

All participants will learn what the gas utilities are saying and how to counter those messages. We will go through National Grid's "Ten Reasons to Convert to Gas" document and review precise, effective responses that your staff can share with customers. They'll learn to do price conversions, explain the importance of working with a local business instead of a utility, and tastefully remind customers of Oilheat's safety advantages. By the time they're finished, they will be comfortable representing your company on the front lines with a polished, pro-Oilheat message. Each attendee will also be provided with a workbook that includes the seminar projects, a guide on performing fuel conversion calculations, important contact and resource information, and a pocket-sized answer sheet for future reference. If your state association is not running any sessions near you, feel free to contact us and schedule an on-site session for your staff. 

Staff education will have you well prepared for all direct inquiries, and the Energy Answers Today literature will deliver a strong message directly to your entire customer base. The campaign's two printed pieces work together to educate your customers. The Energy Answers Today brochure provides a detailed look at the key differences between Oilheat and utility gas. It pulls no punches as it addresses issues of price, conversion cost, environmental impact, health, safety, supply and future developments. The resource section directs customers to Web sites for ENERGY STAR, Consumer Energy Council of America (CECA), the U.S. Energy Information Administration (EIA) and Oilheat America. Complementing the brochure is the Energy Answers Today bill insert. It is more informal and accessible, with a question-and-answer format. The crisp writing highlights our strengths in customer service, safety and integration of renewables while blowing holes in the utilities' specious claims about the affordability of conversions and environmental superiority. Both pieces are printed in full color with a professional look and feel that reflects well on your business and our industry. With two different approaches, there is something for all your customers. You'll double the strength of the pro-Oilheat message and match the utilities' marketing blow for blow. 

Both pieces refer customers to the Web site, EnergyAnswersToday.com, which provides the most comprehensive accounting of why it's better to stay with Oilheat than convert. Today's customers turn to the Internet for information before making purchasing decisions, and we're there with solid information, FAQs that directly rebut the gas utilities' marketing claims, and helpful conservation advice. The site also refers visitors to CECA, EIA and other independent information sources. 

All the materials are prepared with an authoritative voice, drawing on independent sources such as the U.S. Department of Energy to effectively highlight Oilheat's true strengths and debunk the utilities' vague assertions and half-truths. You can obtain these materials through your state or regional association or by visiting PriMedia's online store at www.oil-heat.com/store.

Oilheat has always had the better story to tell, and Energy Answers Today delivers a decisive message that will help steady customers who are seriously considering conversions.

Richard Rutigliano is President of PriMedia, Inc., a full service marketing and communications firm with offices in New York City, Long Island and Boston. The company is now offering free marketing consultations to Oilheat retailers. Phone: 800-796-3342, or visit their Web sites at www.primediany.com and www.oilheat-advertising.com.