Attract New Business in Six Steps
Posted: 12/12/15
By Richard Rutigliano, PriMedia Inc.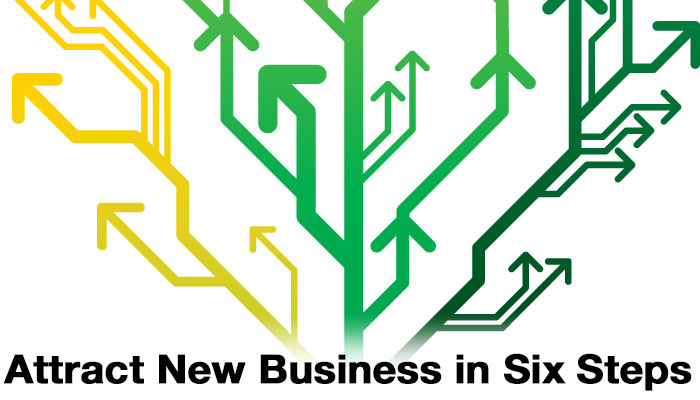 Here are six marketing essentials that can help stimulate new business. Some are particularly valuable when you are expanding or refocusing your operations. Others should be part of your action plan every year.
Take Inventory. Every great marketing strategy begins with analysis and planning. Identify your strengths and weaknesses as well as the challenges and opportunities in your market. Take stock of your personnel and resources, and make informed projections about the future. Do you need to make changes? Are there new products or services you can provide?


Develop a Marketing Plan. Set realistic goals for the next year and the years ahead and decide what's needed to achieve them. Are your goals based on bringing in new customers or on selling more to the customers you already have? If it's new customers you seek, you need a plan for increasing your visibility in the marketplace and making positive impressions. For existing customers, you need to seize their attention and motivate them to buy something new from you. Businesses grow by setting goals and pursuing them doggedly. Anything short of a solid commitment to marketing your services is just wishful thinking.


Solidify Your Image. Buyers prefer companies that are going places. Help them choose you by conveying a strong image that speaks to their wants and needs. Focus on essentials such as logo and tagline. Those elements are far more powerful and influential than many companies realize. In my experience, many companies hurt themselves by failing to grasp the significance of their top-level corporate identity.


Read From the Same Script. Once you are clear on your identity and your ideal customers, it's vital to get your whole team on the same page. The company's messaging should not vary based on who is doing the talking. When you launch an initiative to improve the company's fortunes, don't roll the dice on in-house support. Help everyone understand the importance, and be clear about what you need from your team members.


Be Compelling Online. When a prospect is browsing online and finds you, your website needs to entice them at first glance, or they will move on, and you'll miss the opportunity to serve them – without ever knowing it. It's important to accept that customers are picky and fickle, even those ones that are a perfect match for your company. Help them to choose you instead of your competitor by making a show-stopping first impression.


Be Ubiquitous. Customers use the Internet to find for what they need, so it pays to be highly visible. Create multiple points of contact by getting listed in every widely used online business listing, such as Yelp and Angie's List. Prospects will see your name everywhere they look, and the company website will perform better in search, so you'll get listed above competitors, instead of below them. Also consider advertising on Google and social media. Whichever choices you make, remember: If they don't find you, they won't choose you. Guaranteed.
If you'd like help updating your company's message and image, please contact me at 800-796-3342 or rrutigliano@primediany.com. PriMedia is based in Garden City.