Women in Energy Mentorship Awards presented to two students
Posted: 06/18/19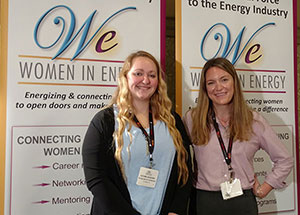 Pennsylvania College of Technology students received two of the three Women in Energy Mentorship Awards presented this month at the Hershey Lodge and Convention Center.
Celeste G. Moquin, of Port Matilda, enrolled in on-site power generation, and Autumn N. Schreiber, of St. Marys, majoring in heating, ventilation and air conditioning technology, were honored at a May 19 dinner.
They were accompanied to the fourth annual event by Carol A. Lugg, dean of construction and design technologies and a co-adviser to the Penn College's Women in Construction club.
""It was very beneficial for me to see where I can end up in this industry!" Schreiber said. "As soon as I arrived, my mentor was introducing me to professionals in the industry." She is mentored by Liz Hill, of PriMedia, in Garden City, New York.
"Being surrounded by so many strong women in the energy field made me feel empowered to pursue my future career," added Moquin, who is mentored by Bobbi Hill, of W.B. Hill Inc. in East Longmeadow, Massachusetts.
Bobbi Hill and Lugg (who also provided the photos) served on a panel – "Empowering the Next Generation of Energy Professionals" – during the opening day of the conference.
The goal of the Women in Energy Mentorship Award is to provide students with valuable connections and tools for success, as well as to highlight the outstanding career possibilities within the energy industry.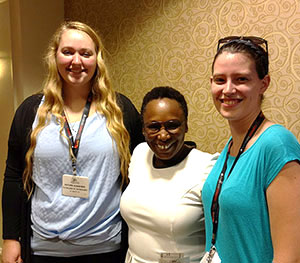 Recipients receive admission and accommodations during the two-day Women in Energy Conference, complimentary membership in the organization and mentorship opportunities throughout the year.
For information about Penn College's HVAC majors in the School of Construction & Design Technologies, call 570-327-4518.
For more about on-site power generation, based in the School of Transportation & Natural Resources Technologies, call 570-327-4516.
For more about the college, a national leader in applied technology education, email the Admissions Office or call toll-free 800-367-9222.
Click here for original article.