Are You Using SmartConnect® to Protect Your Fuel Costs? Plan Now for Price Protection Season.
Posted: 02/07/18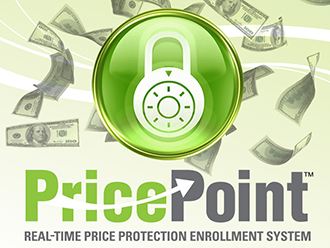 Who's thinking about next year's price protection programs in January? Smart energy marketers. Because they know that integrating SmartConnect data with price protection can save time, money and headaches when the programs launch in the spring … and every year thereafter.
There are many good reasons to offer price protection. On the sales side, it reduces turnover and can help customers manage their monthly bills. In terms of operations, it locks in a valuable number of pre-sold gallons for the season and gives the company a firm basis from which to develop an effective risk management/hedging program.
Benefits of Automation
In an ideal world, price protection is a win-win. But traditionally, these programs required a significant investment in personnel to market the program, calculate the fixed or capped price, and then track the sold gallons against the company's protected supply. It was time-consuming and fertile ground for expensive errors. And with the lag time between making the offer and mailing the contract, to receiving the signed agreement and adjusting their hedging positions, many companies found that the price they offered weeks ago was now losing them money with every delivery.
Integrating your SmartConnect Price Protection Plan (SLPP) module with an online price protection and risk management system can drastically reduce your investment in staff hours and mailings, cut the lag between offer and acceptance to just a few minutes, track gallons sold against hedging positions and alert you and your risk management team when action needs to be taken.
Integrate Advanced Online Pricing Capabilities
With the Price Protection Plan (SLPP) module, your integrated price protection and risk management program can utilize customer information and pricing data to create instantaneous price protection agreements for each account:
Integrate customer, location and volume discounts
Include any program fees as a one-time or per-gallon adjustment
Create pre-pay, fixed price or capped price agreements
Replicate your current contracts in the digital agreements
Track gallons protected and set company-defined contract freeze at pre-defined level
Alert company and risk management team at company-defined gallons-protected levels
"Lock-out" features for customers with insufficient usage history
Set offer expiration dates
Calculate minimum and maximum gallons to protect per customer
Integrate with your payment gateway and SmartConnect Payment and Credit Card Entry module
Create log entries for all activity on the account
Collect binding digital signatures
Format dynamic PDF archival versions of executed contracts
Email PDF contracts to customer and company
Much more!
Online price protection and risk management systems can be integrated into your existing SmartConnect customer account management portal or developed as stand-alone portals. By offering online price protection agreements, you compress the enrollment process into as little as a few minutes, while making it completely automatic and eliminating virtually all the administrative work.
Enhance the Customer Experience and Your Marketing Efforts
With a customer portal built by PriMedia, you get a well-developed system that provides you with an easy-to-use internal company interface on which management can set and modify the default or base pricing, alert levels, discounts and other factors as needed. The PricePoint admin interface also enables authorized staff to override the programmed pricing and set customer accommodation pricing when needed. At the same time, the customer-facing portal maintains company brand standards within an attractive, user-friendly frame. It should almost go without saying, but both sides of the system should be developed on a device-responsive platform, so your sales team and your customers can access the portals while away from their desks.
Once you've integrated your price protection programs with SmartConnect, you should be able to leverage the portal to offer customer-specific data-driven marketing:
Product promotions
Coupons
Loyalty rewards
Equipment upgrade recommendations
Additional company services
For more information on price protection programs or other SmartConnect integration requirements, please contact PriMedia at 800-796-3342 or info@primediany.com, or your ADD Systems sales associate at 1-800-922-0972 or sales@addsys.com.