You Can Shorten the Sales Funnel when You Integrate Your Sales Software with SmartConnect®
Posted: 04/17/18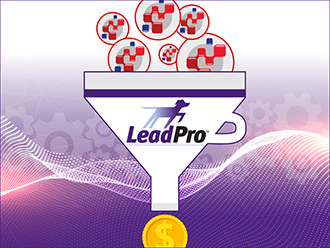 When you integrate your ADD Systems SmartConnect® with your lead tracking and new customer integration software, you can streamline the sales process and ensure consistent data and communications between your sales and customer service divisions. 
Let's look at Lead Tracking and the sales funnel first.
Lead Tracking with SmartConnect®
There are many lead and sales tracking systems from which to choose, but if you are not using one that has been developed specifically for the energy industry to work with SmartConnect, then you and your sales team are spending a lot time making the system work for you and transferring customer data back and forth between the lead software and ADD Energy E3®.
LeadPro® by PriMedia was developed to save all that time and energy. It works with SmartConnect to collect and update the account information, and helps you track the lead throughout the sales cycle to get the customer to contract faster. 
Selling to an existing customer? With LeadPro, one click will populate all the required fields from the customer account within ADD Energy E3®.
Capturing leads from your website? LeadPro can integrate from your web forms, creating a lead as soon as the prospect hits submit.
Working off a referral or other source? The LeadPro interface is simple to use and will prompt your sales or customer service reps to collect the information you really need, without cluttering the screen with extraneous fields.
Once the lead is entered, LeadPro® starts its countdown to the next stage. During development, you will set timeframes for required updates. So, if the lead isn't been updated within the timeframe, you, your sales manager and the sales rep will get an email reminder. Once the lead has been turned into a sale, all it takes is one click to mark it as "won" and write back all the information to E3, automatically updating the customer account or creating the new customer.
Now, take this seamless transfer of information between sales and account management one step further, and let the CUSTOMER set up his or her account whenever it's convenient! 
Integrated New Customer Enrollment
An Integrated New Customer Enrollment System (NCE) from PriMedia can on-board will-call as well as full service customers, but gathers much more information from the latter. Like LeadProV, our NCE program has been developed for energy marketers to use with ADD Systems SmartConnect® and Energy E3®. The following are just two examples of how this might work.
Meet Ms. A, a New Will-Call Customer
Ms. A finds your site through your search engine advertising and clicks on your "Order Fuel" link.
She is taken through simple, short steps where she provides all the needed contact, billing and property information. Each time the "next" button is hit, the system stores the information collected. If she gets called away, you will have everything you need to follow up.
Ms. A is then taken to the online order page, which includes your delivery minimums, volume pricing, ZIP-specific discounts and regional delivery schedules. She pays for her fuel through your payment gateway, and is brought back to create a password for her online account to make her next order even simpler.
Meet Mr. B, a New Full Service Customer
Mr. B comes to your site and clicks on your "Become a Customer" link.
He is also asked for his contact, billing and property information, and that information gets stored along the way, just as with the will-call customer.
Since Mr. B wants to "become a customer" he is asked which of your products and services he is interested in. For diversified companies, this can include heating oil and/or propane delivery, air conditioning service, heating equipment service, new equipment, service agreements, etc. This also provides additional confirmation that the services requested are offered in his area. If not, our NCE software will alert you to his location and requested service, which helps you determine where and when to expand your service area.
Next, Mr. B is asked for additional financial information, so that the system can run a quick credit check. If his credit matches your parameters, he will be taken to the next steps and introduced to all your service options. You may select the services to offer based on his score. If his score falls below your credit threshold,  he will be given the opportunity to place a pre-paid online order, and directed to  contact your office to review credit terms.
Assuming his score meets all your requirements, Mr. B is given the option to enroll in all of your value-added services, including:

Automatic Delivery
Budget Plan
Price Protection
Service Plan
Loyalty Program
Email and Text Alerts
Paperless Billing
Automatic Payments

If any of the programs require a payment, Mr. B will be taken to the payment gateway.
All done now, Mr. B creates his user name and password, and he has just become your newest full service account. Both you and he receive emails with all the information and documentation you need. 
Integrating with ADD Energy E3
We have just collected a lot of customer data. With PriMedia's Integrated New Customer Enrollment System, that data is automatically written back through SmartConnect, a new account number is generated and the account is populated with all the customer information, and your CSRs have yet to hit a single key.
Of course, there is some personal follow up left to be done. Keeping with your reputation for outstanding service, you will want to welcome your newest customers, review Mr. B's information and needs, and set up a system evaluation. Nothing replaces that personal touch. But with PriMedia's LeadPro and the Integrated New Customer Enrollment System for SmartConnect, you can get to that point much more quickly.
For more information on integrated New Customer Enrollment, Lead Tracking or other SmartConnect integration software, please contact PriMedia at 800-796-3342 or info@primediany.com, or your ADD Systems sales associate at 1-800-922-0972 or sales@addsys.com.