PriMedia Gains Google Partner Certification
Posted: 10/07/16
GARDEN CITY, NY – PriMedia Inc., a diversified agency specializing in e-marketing and custom software, recently joined Google Partner as a certified expert in core Google marketing programs.
PriMedia has joined some of the world's most elite agencies by earning Google Partner certification in Google AdWords, AdWords Display and AdWords Mobile. As a Google Partner, PriMedia is a proven provider of e-marketing services on the leading search platform, which hosts more than 60 percent of the search traffic in the United States.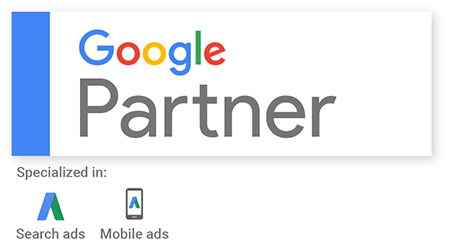 "Google provides a great environment for businesses to connect with customers and clients, and our mastery of Google's core services is an excellent benefit for clients," said PriMedia President Richard Rutigliano. "AdWords offers guaranteed visibility that no other platform can match, and Google Analytics provides granular insights that are essential for shaping an online presence that functions at a consistently high level."
Google Partners provides agencies and professionals with the resources, training and support to help advertisers be more successful online. Agencies receive access to a range of benefits including free product exams and certifications, training events, promotional offers and rewards, and professional networking.
For agencies to achieve Partner status, staff members must demonstrate advanced AdWords knowledge by successfully completing rigorous examinations administered by Google. An agency also must have managed at least $10,000 in total AdWords spend over the previous 90 days.
Rutigliano said that it is imperative for retail and business-to-business companies to outperform their competitors on the internet. "Consumers and businesses use the internet to find what they need, and companies can rely on Google Partner agencies like PriMedia for expert positioning, presence and analysis."
Superior online presence and functionality set PriMedia's clients apart from their competitors. With an expert team of developers managing an array of powerful cloud-based apps and services, the agency helps its clients enhance visibility and deliver cutting-edge self-service. "Consumers gravitate to companies that offer a vibrant and functional online presence," Rutigliano said.
PriMedia's customizable web applications include InVue (customer account management), OnPoint (loyalty rewards), LeadPro(lead tracking), PossiBill (payment solutions), TextPoint (mobile communications) and PricePoint (contract enrollment). The company also offers WebCreate (website solutions) and FireWeb (SEM/SEO/WPO), as well as advertising and marketing for online, print and out-of-home.